Sustainable landscaping
What does sustainable landscaping mean? Sustainable landscaping should include an attractive environment that is in balance with the local climate and requires minimal resource inputs, such as fertilizer, pesticides and water. Sustainable landscaping begins with an appropriate design that includes functional, cost-efficient, visually pleasing and environmentally friendly maintainable areas. There are short-term as well as long-term goals for a sustainable landscape. For example, a short-term goal may include saving water or using a compost bin. Composting locally grown crops and kitchen waste and returning it back to the garden increases organic matter in the garden while recycling nutrients within the landscape. A long-term goal may be to create a more self-sustaining garden. This includes all aspects of total plant health care, proper plant selection, reduced inputs and maintainability. Resourced from Colorado State University.
Use of native plants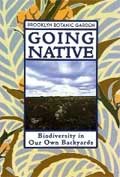 Going Native: Biodiversity in Our Own Backyards, by Janet Marinelli, is a clear, compelling introduction to the ecological wisdom of restoring native plants across the nation. In Going Native, nine top landscape designers have each created a sample garden for a typical piece of property in their region. Each design includes a planting plan, a native plant list, and photos of native species with a description of the plant's preferred habitat and the birds, butterflies and mammals that it attracts. This book was reviewed by Environmental Building News.
Rainwater harvesting
There are many types of systems to harvest rainwater. Notable are systems for runoff rainwater from hillsides and rooftop rainwater harvesting systems. The type used depends greatly on the purpose (domestic or industrial use) and also on economics and physical and human considerations. Rooftop harvesting systems are most used as they are most economical if there is more than 254mm of precipitation a year.


Low-flow toilets
Since 1992, federal law has mandated that nearly all new toilets use no more than 1.6 gallons per flush, the exception being commercial blow-out toilets, which are still allowed to use 3.5 gallons in some states. Toilet flushing is the largest single use of water in most residential and commercial buildings, accounting for up to 40 percent of residential use. Water savings from toilet replacement is significant. In addition to the traditional gravity system, pressure-and vacuum-assisted flushing systems have been developed offering superior performance, but are not as quiet. Dual-flush toilets, used for years overseas, are now available in the U.S. These dual-systems save additional water by making two flushes available: one for solid wastes and a lower-volume flush for liquids and paper.
Low-flow shower heads
Showers account for about 17 percent of indoor residential water use, according to the Environmental Protection Agency. Old, inefficient shower heads increase water and energy use, but some low-flow units have been faulted for having poor performance, leading people to spend more time in the shower. WaterSense, an EPA program modeled after the Energy Star program, is working on performance criteria; keep a watch for this information. Shower heads should have a flow of 1.75 gallons per minute or less, below the federal standard of 2.5 gallons per minute.
Energy Star washers and dishwashers
The Energy Star program has strict guidelines for its products, saving energy and water consumption. Look for the Energy Star label when selecting. Star-qualified dishwashers must be at least 41 percent more energy-efficient than the current 2007 Federal standard. Choosing a new Energy Star dishwasher instead of a regular dishwasher saves an average of $160 over the life of the product.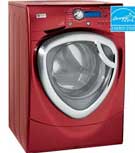 One example of an Energy Star washer is the GE Profile front-load washer, which exceeds U.S. Department of Energy standards by up to 77 percent, and 2007 Energy Star guidelines by up to 30 percent. This front-load washer's total energy and water savings can pay for the initial cost of the washer over its life, based on average water and energy use over 12 years using 10 loads per week compared to a typical top load washer. The GE Profile front-load 4.2 cu. ft. stainless steel wash basket is big enough to hold 24 large towels or a king-size comforter, saving you time, water and energy.
General water conservation
There are many changes your family can make for conservation within your home. Some simple areas to reduce your consumption: quicker showers, fuller dishwasher loads, fuller laundry loads, installing drip systems on your landscape, wash the car less often, turn valves down to reduce water flow. Saving water will be challenging at first, but as you practice conservation in your home, it will become second nature. You will soon come to an awareness that will bring you great satisfaction in your goal to consume less.
Ideas on water conservation
Log into your local water company's website. Many offer a free on site consultations with practical advice on ways to conserve in your home, and on your property.