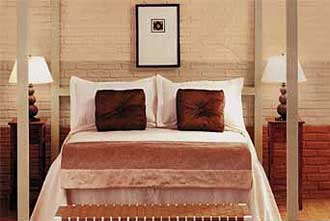 Even the most stylish decor can use green materials. This bedroom has been decorated with Benjamin Moore's zero-VOC, eco-friendly interior paint "Natura".


Help from professionals
Before you begin, get the advice of experts; this will save time and money, giving you far better results for your investment. Expert advice and knowledge will ensure your newly remodeled home will be sustainable, durable and beautiful for many years.
Natural fibers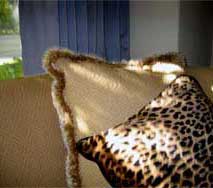 After World War II there was a significant increase in the manufacturing of synthetic fibers. With the environmental movement, there is a high demand for natural products, now seen as a healthier option. Natural fibers are made from plant, animal and mineral sources. The most widely used natural fibers are cotton, flax and hemp for draperies and upholstery. Sisal and jute are often used in place of carpeting. Natural grasses have been used for window shades offering high performance and excellent light filtration. The selections are endless, and the weaves range from refined and elegant to a bulkier more ethnic look. Natural fibers can be classified according to their origin.
Vegetable fibers
Vegetable fibers are generally comprised of cellulose. Examples include cotton, jute, flax, ramie, sisal and hemp. These fibers can be further categorized:
Animal fibers
Animal fibers are generally composed of protein and used often in textiles for residential use. Examples include silk, wool, angora, mohair, alpaca and horse hair. The sub-categories are the following:
Can your home be both stylish and green? You bet!
New construction or simply remodeling, you want your home to be safe, healthy, hip, chic, eco-friendly, functional, comfortable, durable and energy-efficient. How to start?
Planning
Assess your property inside and out; look for possible benefits and setbacks.
Plan your remodeling well through organization.
Start with your budget. Defining a budget is crucial to the success of any home-remodel project.
Define the scope of your project. Based on your budget parameters, what is the scope of your project?
Make a prioritized wish list.
Plan for interruptions during your remodeling. Think of how the remodeling process will impact your living space during construction and plan accordingly.
Plan your installations wisely. Even when carefully selected, many products will have some off-gassing effects. These gas-emitting products (for example, newly finished cabinets) can be stored in an area away from your living space prior to installation, thus minimizing the negative effect in your home. Opening windows to air out the home is helpful. Materials like wool carpet, drapes and soft furnishings should always be installed last, as they can absorb these toxic gases from other newly-installed materials. If this absorption by other materials occurs, it will have a negative effect, causing a slower release of these gasses in your home over a longer period of time. The result is a longer exposure period for you and your family. Plan your remodeling accordingly to ensure a healthier home environment.
Shopping
Devote time to research your options. This time investment will give you the best return.
Shop wisely by selecting materials that are practical, durable and non-toxic, with little or no off-gassing. Look for hidden toxins like formaldehyde used in wood flooring. PlybooPure bamboo flooring is just one formaldehyde-free choice. When choosing carpet, explore the choice of wool; a natural fiber that is flame retardant.
Explore using salvaged or reclaimed products.
Look at the life-cycle of the product before you purchase.
Shop for natural materials like wool, linoleum (made from linseed oil), cotton or hemp, and eco-friendly paints.
Ask where the product is made? Buy locally produced product when possible.
Choose recycled products or products that can be easily recycled after their life-cycle.
Shop smart for Energy Star appliances that meet your lifestyle and budget. Check to see if they meet rebate requirements from water, gas and electric companies. You may invest a little more, but the energy savings will be seen for years ahead.
Natural products for the home
Draperies made of 100% wool, cotton, hemp and silk.
Carpets made of wool, sisal or jute.
True linoleum made from linseed oil.
Bamboo, wood or reclaimed wood floors (look for the FSC certification, check formaldehyde levels from the manufacturer).
Natural stone: marble, granite, slate, limestone.
Down for pillows, cushions and bedding.