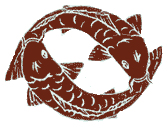 ™


Our logo, rich with symbolism


In the Far East, coy fish symbolize prosperity, luck and longevity. The symbol of two indicates partnership within relationships; it also represents two practices in perfect balance, interior design (modern form) and feng shui (ancient wisdom). The circular shape symbolizes harmony. Red ink used on all our stationery indicates wealth and abundance. The final element is the wood block art form, representing fine historical craftsmanship.

Fine art by Michael Surles, Sonoma County, CA, 1999.

Trademark and copyright © 1999, Lorraine Alexander


Design fee menu


Initial design consultation $295 (recommendations on site), $145 hour thereafter
Phone consultation including color, project recommendations, Feng Shui consultation - $145 hour or $75 for a half hour or less (send your photos via email prior to the call)
Project evaluation with recommendations $495
Special project rate for qualifying projects (reduced rate for 10 hours or more). Call for fee details regarding your specific design needs.
Design-for-a-day $495 - Use up to four hours of design time used during one site-visit.
Retail products purchased with Lorraine Alexander Interior Design (including, draperies, fabrics, upholstery) - Design time will be charged, but credited back to the client at the time of purchase.


Trip fees may apply, please request a quote.
Please contact us to develop your personal style for your home. Certified in Green Building Design, we work with your contractor or architect, or help you find professionals to suit the needs of your remodeling or new construction project.


Lorraine Alexander Interior Design
P.O. Box 1199, Windsor, CA 95492
Phone: 707.836.9060


Please click the flower to send email: